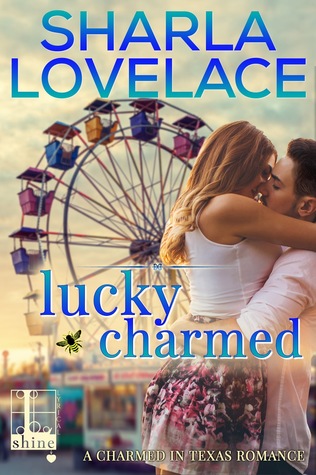 Lucky Charmed by Sharla Lovelace
My rating: 5 of 5 stars
Drama. DRAMA. D.R.A.M.A. Angst and drama tend to go hand in hand with second chance romances. Sharla Lovelace balances her stories with levity, sexiness and heart, bringing out all the feels. Lucky Charmed is a story about deep but young love that was crushed when Sully left Carmen behind to continue with his traveling carnival life without a word.
Charmed, Texas is friendly with its small town charm, a vast bee population and honey production. But Carmen Frost hates honey and the townsfolk aren't so affable towards her. The latter because she divorced the town's golden boy who she never truly gave her heart to. Prematurely relieved that the Lucky Hart carnival isn't passing through town, she finds out its previous owner and the boy who stole her heart is moving into town. Reviving her dreams of traveling without a destination, Carmen Frost cannot get out of there fast enough. Because imminent encounter with the older, sexier, more mature version of Sully Hart will surely open up old wounds that never really healed and dig up unsettling emotions she doesn't want to feel.
Tired of life as a traveler, going from one place to another, without roots and traditions Sully is ready to buy a house, settle down, plant flower beds and a woman to share it with. But the girl who took his heart over a decade ago wants just the opposite and there's also the fact that he broke her heart all those years ago. There's still hope though because the connection between them is still there, proven by the fact that no matter how much they push each other, they can't seem to get their desire for one another in check. Can they get over their past to hope for a future together?

I love small town backdrops where the sense of community is heightened, and having everybody know everyone else adds complexity to the story with its quirky characters and unpredictable shenanigans. But I loved Lucky Charmed because it has a combination of elements that made it worth reading. The writing is fantastic, the characters are appealing and maddening in the best way and the love story is steeped with emotion. It's a second chance story about love lost. About feeling discarded and having to continue on with life. It's about facing your past and having the mettle to forgive and take a chance in love.
The attraction that instantly revived the moment they lay eyes on each other got my pulse quickening with angst and delight. The story builds on their tension moving their relationship forward while I frantically flipped pages.

Sully and Carmen met one summer while the carnival was in town. Seventeen year old Carmen's wanderlust rapidly fell for Sully's nineteen year old world travel confidence. And even if they were young, the loved each other zealously to the point of rashness. When the carnival left, she'd leave with him. But when the day came, Sully left without a word or a note. He came back each year with the carnival though. But the damage and pain he'd caused forced her to move on until he decided to come back and stay for good.

No matter how much time had passed nor the remaining heartbreak, the strength of their feelings had not diminished. The lust and love right along with the hurt and pain. But there are many factors at play now and in their past. I won't spoil you though because every emotionally charged and drama filled page in this book should be enjoyed from start to happy ending.
Lucky Charmed is book #2 in the Charmed in Texas series by author Sharla Lovelace. It is a standalone contemporary romance with a great balance between humor, antagonism, steaminess, and heartfelt emotions. It is told from the heroine's point of view with a happy ending.
Amazon -> http://amzn.to/2ukSrLj
* I was given an ARC of this book courtesy of the author via NetGalley. The excerpts are from that copy. *
More reviews * Stalk us on FaceBook * As well as Twitter * Pinterest Board for Book Teasers