review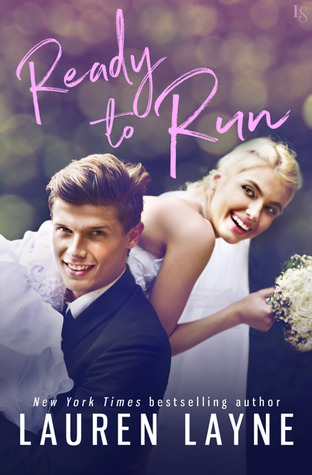 Ready to Run by Lauren Layne
My rating: 4 of 5 stars
A great blend of fun and sexiness to kick off a series you won't want to miss.
Lauren Layne has a wonderful way of writing a story with good balance between delightful fun and hotness that grabs me from start to finish. I haven't missed a single one of her books and I don't plan on doing so because I know I'll be getting an enjoyable escape every single time. With this first book in her I Do, I Don't series, Ms. Layne sets the stage for an amusing and addictive series about runaway bachelors.

In Ready to Run we meet big city, reality TV producer Jordan Carpenter who is trying to recruit the small town, elusive firefighter Luke Elliot who's left three brides at the altar. After being ignored via emails and phone calls, Jordan decides to head to the small and picturesque town of Lucky Hollow to talk to him personally, but no matter how much she tries to convince him to participate in the show he just won't budge.

Much to Luke's dismay and Jordan's surprise, she's having a good 'ol time reacquainting herself with the small town life thanks to the warm welcome she's getting from everyone else, from invitations to participate in the kissing booth at the county fair to his exes including her in their book club. Before long Luke and Jordan are incapable of ignoring their growing attraction, but as candidate he's off-limits to her and her presence is dredging up old wounds.
There's a lot more to Luke's runaway groom story than he lets on and Jordan senses this because there's no way a man who dedicates his life to saving people and even cats and is so liked by everyone would callously leave his brides, or would he? Can he let down his guard long enough to confess the reason behind his shielded heart and admit his growing feelings towards the sexy city slicker before it's too late?

I really enjoyed Luke and Jordan's story, especially the charming backdrop with all of the town's endearing characters where everyone knows everyone else, and of course Jordan's BFF, the colorful Simon. I can't wait to read the rest of the series!
Ready to Run is the kickoff book in the Ready to Run series by Lauren Layne. It is a standalone, contemporary romance. Told from both points of view, with a happy ending.
Amazon -> http://amzn.to/2sYBQ0m
Jorinda Pearce thought she did everything right – graduated from college, married her long-time sweetheart, established a career. But what does she have to show for it now? A degree she doesn't use, a job she hates, and an ex-husband that broke her heart.
Looking for a long overdue adventure, Jorie takes a walk on the wild side and attends a masquerade event at The Wicked Horse Vegas. It's exactly the escape she's looking for, and even better, she can explore anonymously. Drawn to the man masked in black leather with the body of a god, Jorie finds the greatest pleasures of her life at the hands of a stranger.
Walsh Brooks is the most sought after man in The Wicked Horse. Sex is nothing but a game to him and he's the type that will always leave at the end of the night without looking back. Unfortunately for Walsh, there's no way he can walk away from the mysterious green-eyed beauty behind the mask of sapphire feathers, because he knows exactly who she is.
Jorie is his best friend's little sister and there's not another woman in the world that's more off limits.
EXCERPT
Squaring my shoulders, I march into The Royale and head straight for the concierge desk. I haven't been in this casino before. Hell, I haven't been in hardly any of them. Sure, I'd only grown up about forty-five minutes away, but gambling and all-you-can-eat buffets held no interest to me.
From Micah bragging about his best friend over the years, I knew Walsh orchestrated the purchase of the land, then pulled together financing with two other partners to build this casino. It's one of the most popular on the strip, boasting five-star dining, old-world elegance, and superior customer service. Again, all this from Micah, but honestly… I'm so proud of Walsh, too. We may have lost touch over the years, but I'll never forget all the ways in which he acted as a big brother to me.
Ick.
Okay… that's gross. Thinking of Walsh like a brother.
I scrub my mind clean of that thought and demand myself never to do that again.
Rather, I'll never forget all the ways in which Walsh provided me friendship and support in my formative years.
Yes… much better.
"Can I help you?" a man behind the concierge desk asks with a genuine and friendly smile. Not snooty as I would expect in a fancy hotel, and I guess that goes to the superior customer service The Royale strives for.
"Yes… hi," I say as I nervously tuck my hair behind my ears on both sides. "I need to see Mr. Brooks. How do I go about getting access to his apartment?"
Micah told me some time ago that Walsh lives here.
The concierge never loses his friendly smile, but a single eyebrow arches high at my temerity.
"Oh, gosh," I stammer. "That came out stalkerish. Mr. Brooks… I mean, Walsh… and I are longtime friends. He used to babysit me."
"Your name?" the man asks as he pulls up something on his computer.
"Jorie Pearce."
After a moment of scanning, he looks up at me. "Your name isn't on the approved list."
"Well, he's not exactly expecting me."
"I'm sorry, Miss Pearce," he says with true regret in his voice. "But our policy is strict. No one gets up to the private penthouse without their name on the list."
I lean on the desk with one elbow and lower my voice. "Just out of curiosity… are there any women on that list?"
The eyebrow shoots up again.
"No, wait," I say hastily as I hold my palms toward him in a silent plea to not process my last request either mentally or on the computer. "That's totally stalkerish, and I didn't mean that."
"Miss Pearce," the concierge says, now with a hint of annoyance. "Perhaps you'd like to leave a message? I can get it up to Mr. Brooks today and he can call you."
"No, I need to see him now," I tell him firmly. "And I swear it's not to cook a rabbit in a pot on his stove. Can you please just call up to his apartment?"
"That's not our policy—"
"Look," I snap as I lean across the desk slightly. "I'm a lifelong friend of Walsh's. My brother is his best friend. We lost touch for a few years, but we ran into each other last night. I really need to talk to him about something that happened last night, and I'm not leaving this hotel until you call up to his apartment."
The eyebrow doesn't arch but it does draw inward to meet its match on the other side as he considers what I just said.
"I swear to you," and here I pause to look at his name tag, "Bentley. Please just call him. He won't be mad."
With a sigh, he relents and picks up the phone receiver, punching in a five-digit number. After a pause, he says, "Mr. Brooks… I'm very sorry to disturb you, sir, but there's a Miss Jorie Pearce here to see you. She says she's a longtime friend."
I watch as Bentley listens, but I can't gauge what's being said as his face remains blank. Finally, he says, "Very good, sir."
I take this to mean I'll be getting an escort to the penthouse suite, but Bentley replaces the receiver and says, "I'm sorry, Miss Pearce. But Mr. Walsh told me to tell you he's busy and can't receive you right now."
My eyes narrow at Bentley. "I don't believe you. Call back and let me talk to him."
"I assure you, I just talked to him and that's what he said."
"Call him back," I order as I point to the phone.
"I can't," he says almost with a wail. "If I do, he'll fire me."
Okay, that hits home. I don't want to get anyone in trouble, so I say, "Fine. Give me just a moment."
I take a few steps away from the concierge desk and pull my iPhone out. I shoot off a quick text to Micah. What's Walsh's phone number?
I wait a few moments, but I know Micah is awake in San Francisco at this hour. His phone is always on, and he never ignores a text from me.
He responds with the number before I can even start to tap my foot with impatience, adding on, Why?
I hate the lie, but I write back, Came to Vegas for the day. Thought I'd see if he could meet up for lunch. Haven't seen him in years.
Cool, he writes back. Tell him I said, "what's up, douche?"
I roll my eyes as I text back, Real mature. Love ya. Later.
After I save the number to my contacts, I open a new text to Walsh. Let me up to see you or I'm going straight back to The Wicked Horse to satisfy some further curiosities I have.
I hit send and then walk back to the concierge desk. I merely lean one elbow on it and watch Bentley with a silent smile. The phone rings about ten seconds after that.
Bentley's eyes fly to mine as he listens, and then says, "Yes, sir. Right away."
When he replaces the receiver, he says, "I'm to show you to the penthouse elevator."
"Thank you, Bentley," I say brightly.
Wicked Wish
by
Sawyer Bennett
My rating:
4.5 of 5 stars
Sawyer Bennett knows how to write scorching hot romances with a searing hot hold that you won't want to let go.

If you're looking for a forbidden romance of the "I've loved my best friend's younger sister forever" kind with incendiary moments and all the elements that make a novel absolutely unputdownable, look no further than Wicked Wish. Sawyer Bennett's second book in the Wicked Horse Vegas erotic spinoff is just as addictive and unique as the books in the original Wicked Horse series, and even those abundant sizzling hot scenes of pleasurable wickedness never distract us from the forbidden romance plotline that moves the story forward.

With a broken heart and seriously damaged self-esteem after her husband kicks her out because she's not good enough, Jorie Pearce goes to Las Vegas to regroup with her best friend who suggests the best way to prove to herself that she's better than good is to explore her sexuality freely and anonymously at the Wicked Horse's masquerade party where she is quickly pulled like a magnet to the most attractive man she's ever seen, and who gives her greatest pleasure she's ever known. But what happens when the mask comes off and she realizes that the man that rocked her world is her brother's best friend?

Walsh Brooks is perfectly content with his uncomplicated life, he has everything he could ever want: an incredibly successful business and an all access membership to the Wicked Horse sex club with no strings attached debauchery. His life quickly changes from easy to extremely complicated the night he experiences the best sex of his life with a gorgeous green-eyed woman he thought was a stranger, until the moment he sees two tiny scars and realizes she's the girl he fantasied about but knew he could never have.

Without a doubt, the chemistry between Walsh and Jorie was phenomenal, but the best part of these books isn't the all the wicked sexiness, it's the love story between two appealing characters which is full of emotion because their shared history.
Even though she was a bit broken and insecure, Jorie is brave and strong and quickly realizes that Walsh is just the guy who'll help her get over her fears and won't let him push her away because of a silly snag, A.K.A. her brother. It was absolutely amusing to see how she wrapped the "never going to settle down because domesticity isn't for me" man around her finger. And in Walsh's case, it's true what they say about the bigger manwhore falling the hardest.

I'm a total fan of Sawyer Bennett, whatever she writes I'll read, whether it's be tear jerking romances or wickedly sinful stories like this one because they all have a very important ingredient that makes me fall every time: heart.
Wicked Wish is the second book in the Wicked Horse Vegas series by Sawyer Bennett. It is a standalone, full-length, erotic romance with sweltering hot scenes that accompany a lovely and emotional romance. Told from both points of view, with a happy ending.
4.5 stars
Amazon -> http://amzn.to/2vztQ6k
* I was given an ARC of this book courtesy of the author via InkSlinger. The excerpts taken are from that copy. *
Since the release of her debut contemporary romance novel, Off Sides, in January 2013, Sawyer Bennett has released more than 30 books and has been featured on both the USA Today and New York Times bestseller lists on multiple occasions.
A reformed trial lawyer from North Carolina, Sawyer uses real life experience to create relatable, sexy stories that appeal to a wide array of readers. From new adult to erotic contemporary romance, Sawyer writes something for just about everyone.
Sawyer likes her Bloody Marys strong, her martinis dirty, and her heroes a combination of the two. When not bringing fictional romance to life, Sawyer is a chauffeur, stylist, chef, maid, and personal assistant to a very active toddler, as well as full-time servant to two adorably naughty dogs. She believes in the good of others, and that a bad day can be cured with a great work-out, cake, or a combination of the two.
WEBSITE | FACEBOOK | TWITTER | BOOKBUB | AMAZON AUTHOR PAGE | INSTAGRAM

Eye Candy by Jessica Lemmon
My rating: 4 of 5 stars
If you're looking for light, fun, sweet and sexy, Eye Candy is a great pick for your summer reading.
Admiring beauty is part of human nature, right? Or at least that's how Jacqueline Butler is justifying her mid-morning ogling of the dazzling man who jogs by her office every day at precisely 11:45am. And that's all she intended to do until her best friend and coworker pushed her to ask the unidentified man to go out with her. The problem is that she hasn't dated since her divorce and she's out of practice. So while she dates the running man she's practicing and falling for her best friend.
"Our friendship is important. All I can hope is that I haven't ruined what we have for a stab at what we could be."

Vince Carson couldn't have survived his divorce if it weren't for his two best friends. His guy friend who he liked to go out for drinks with and his other friend who happened to be a girl and spent every Friday night watching old movies with him. She happily shares the vice president title with him, but she's also happily slotted him in the dreaded friend zone. Which wasn't terrible at first, but now he desperately wants out and if everything goes according to his plans he'll soon be swooping. But you know what they say about the well laid out plans of mice and men…

Two friends surrender to their desire and fall in love in this fun and steamy friends-to-lovers office romance. I've read several books by Jessica Lemmon and with Eye Candy she delivers another entertaining book and a wonderful start to her new series Real Love. Every page is made to draw the reader deeper into Jackie and Vince's friendship, how good they are for each other, how they helped each other get through difficult moments in their lives and how for both of them, that friendship evolved into more. But for both of them the fear of being hurt again and loosing that bond had them going through an unconventional courtship.

I loved the lightheartedness of the story. It was funny and sexy and easy to read. Both characters are very likeable. Jackie is smart and confident and yet a bit shy when it comes to the opposite sex, hence the practice dates with Vince who is easy going and playful. It's truly fun watching them stumble their way through their road from friends to lovers. I can't wait to read the next book in the series!
Eye Candy is book #1 in the Real Love series by Jessica Lemmon. It is a standalone contemporary romance. Told from both points of view and has a happy ending.
Amazon -> http://amzn.to/2tzQcVg
Author's pinterest board -> https://www.pinterest.com/lemmony/eye-candy/
4.5 stars
More reviews * Stalk us on FaceBook * As well as Twitter * Pinterest Board for Book Teasers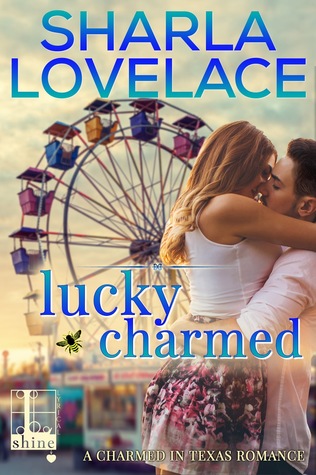 Lucky Charmed by Sharla Lovelace
My rating: 5 of 5 stars
Drama. DRAMA. D.R.A.M.A. Angst and drama tend to go hand in hand with second chance romances. Sharla Lovelace balances her stories with levity, sexiness and heart, bringing out all the feels. Lucky Charmed is a story about deep but young love that was crushed when Sully left Carmen behind to continue with his traveling carnival life without a word.
Charmed, Texas is friendly with its small town charm, a vast bee population and honey production. But Carmen Frost hates honey and the townsfolk aren't so affable towards her. The latter because she divorced the town's golden boy who she never truly gave her heart to. Prematurely relieved that the Lucky Hart carnival isn't passing through town, she finds out its previous owner and the boy who stole her heart is moving into town. Reviving her dreams of traveling without a destination, Carmen Frost cannot get out of there fast enough. Because imminent encounter with the older, sexier, more mature version of Sully Hart will surely open up old wounds that never really healed and dig up unsettling emotions she doesn't want to feel.
Tired of life as a traveler, going from one place to another, without roots and traditions Sully is ready to buy a house, settle down, plant flower beds and a woman to share it with. But the girl who took his heart over a decade ago wants just the opposite and there's also the fact that he broke her heart all those years ago. There's still hope though because the connection between them is still there, proven by the fact that no matter how much they push each other, they can't seem to get their desire for one another in check. Can they get over their past to hope for a future together?

I love small town backdrops where the sense of community is heightened, and having everybody know everyone else adds complexity to the story with its quirky characters and unpredictable shenanigans. But I loved Lucky Charmed because it has a combination of elements that made it worth reading. The writing is fantastic, the characters are appealing and maddening in the best way and the love story is steeped with emotion. It's a second chance story about love lost. About feeling discarded and having to continue on with life. It's about facing your past and having the mettle to forgive and take a chance in love.
The attraction that instantly revived the moment they lay eyes on each other got my pulse quickening with angst and delight. The story builds on their tension moving their relationship forward while I frantically flipped pages.

Sully and Carmen met one summer while the carnival was in town. Seventeen year old Carmen's wanderlust rapidly fell for Sully's nineteen year old world travel confidence. And even if they were young, the loved each other zealously to the point of rashness. When the carnival left, she'd leave with him. But when the day came, Sully left without a word or a note. He came back each year with the carnival though. But the damage and pain he'd caused forced her to move on until he decided to come back and stay for good.

No matter how much time had passed nor the remaining heartbreak, the strength of their feelings had not diminished. The lust and love right along with the hurt and pain. But there are many factors at play now and in their past. I won't spoil you though because every emotionally charged and drama filled page in this book should be enjoyed from start to happy ending.
Lucky Charmed is book #2 in the Charmed in Texas series by author Sharla Lovelace. It is a standalone contemporary romance with a great balance between humor, antagonism, steaminess, and heartfelt emotions. It is told from the heroine's point of view with a happy ending.
Amazon -> http://amzn.to/2ukSrLj
* I was given an ARC of this book courtesy of the author via NetGalley. The excerpts are from that copy. *
More reviews * Stalk us on FaceBook * As well as Twitter * Pinterest Board for Book Teasers
Silver Silence
Book #1 in the Psy-Changeling Trinity Series
NOW AVAILABLE
Blurb
New York Times bestselling author Nalini Singh introduces a bold new chapter in her extraordinary paranormal romance saga with the Psy-Changeling Trinity series. Wild passion will encounter the darkest of betrayal…
Control. Precision. Family. These are the principles that drive Silver Mercant. At a time when the fledgling Trinity Accord seeks to unite a divided world, with Silver playing a crucial role as director of a worldwide emergency response network, wildness and chaos are the last things she needs in her life. But that's exactly what Valentin Nikolaev, alpha of the StoneWater Bears, brings with him.
Valentin has never met a more fascinating woman. Though Silver is ruled by Silence—her mind clear of all emotion—Valentin senses a whisper of fire around her. That's what keeps him climbing apartment buildings to be near her. But when a shadow assassin almost succeeds in poisoning Silver, the stakes become deadly serious…and Silver finds herself in the heart of a powerful bear clan.
Her would-be assassin has no idea what their poison has unleashed…
SILVER SILENCE by Nalini Singh
Excerpt
Laughing at the cubs' antics, Valentin jogged down the slight incline and waded into what had to be ice-cold water after kicking off his boots and socks. He splashed the cubs, laughed when they splashed him back. Running so they could chase him, he turned abruptly and chased them back, to their unhidden joy.
Silver took a seat on the grass. When the female bear looked her way, she inclined her head in a silent greeting. The bear did the same, then they both watched an alpha bear play with two energetic cubs, his hands holding rough care for their small bodies.
By the time Valentin made his way back to her, he was drenched and his eyes weren't human in any way. When he spoke, his already deep voice was so low it felt like thunder against her skin. "Couldn't resist," he said, pushing back his wet hair with one big hand. "If you weren't in recovery and if I wasn't in terror of Nova's wrath, I'd have invited you. The small monsters wanted to play with you."
Silver didn't get to her feet. "Can we stay here a little longer?" It was patent that Valentin had an extremely high tolerance for the cold, but he might want to dry off.
"Sure," he said, and, moving away several feet, shook off the wet.
Fine droplets settled on the skin of her cheek, but she didn't flinch at the unintentional tactile contact. She also controlled her urge to reach up and touch the water where it lay against her skin. There was no reason to do that, and Silver was alive because she only did things that were rational.
Settling beside her, Valentin waved at the cubs as their guardian led their tired forms toward a path in the trees that was at the same level as the stream. "Gentler climb," Valentin told her.
"They seem too exhausted to make it to Denhome."
"It's all an act—they're hoping for a ride on their aunt's back." His tone held the same fond affection she'd heard when he spoke of Dima. "It'd take more than a few minutes' play in the water to wipe out those two."
The cubs had played with Valentin for almost a half hour. "They're hyperactive?"
"They're baby bears."
Silver watched as those baby bears turned toward her and rose up on their back paws, as if in challenge. A stern sound from their caretaker, and they dropped down and scrambled to catch up with her. Their bodies disappeared into the trees as dusk began to turn from orange to shadowy gray.
Beside her, Valentin sprawled out, bracing himself on his elbows. His drenched T-shirt clung to the ridged muscles of his abdomen, pulled tight across his pectoral muscles, shaped itself over his shoulders. His jeans weren't much better, outlining the raw muscle of his thighs.
Valentin Nikolaev was a man of violent physical strength even in human form. Yet he clearly had iron control over it; when he'd played with the children, they'd displayed zero fear of their alpha.
"You thought about where you're going to live when you escape the bears who've kidnapped you?"
When she raised an eyebrow at him, he grinned. "Fringe netter with his own Internet channel sent out a breaking report last night. Pasha—who obviously needs more work duties—made up a fake account and posted a comment swearing to have seen you being pulled into a black van by six burly bears in bear form."
"You don't seem too concerned." Amber eyes and deep voice, he remained very much a bear in human form.
"Well, according to this 'eyewitness,' the getaway driver was in bear form, too. Must've been tough for him to steer with one paw since he was drinking a beer at the same time."
"Bears," Silver said, making Valentin throw his head back and laugh that huge laugh that wrapped around her.
Posted by arrangement with Berkley, a member of Penguin Group (USA) LLC, A Penguin Random House Company. Copyright © Nalini Singh, 2017.
Silver Silence
by
Nalini Singh
My rating:
5 of 5 stars
If you like paranormal romance you can't go wrong with Nalini Singh's Psy Changeling series. When you look up binge reading, Nalini Singh's name is sure to be there. Silver Silence is a passionate and heartwarming love story. It's compelling, sexy and absolutely swoon worthy.
"She cleared her mind of all other thoughts, her attention only on the wild, beautiful man who called her his sunshine and who saw starlight in her eyes."
Silver Silence seen through the eyes of an alpha bear changeling who is determined to win the heart of the mesmerizing woman he's chosen to be his mate, no matter how impossible it may seem. Especially when said woman has been trained since early childhood to not feel. But Valentin Nikolaev senses the fire and sunshine beneath the ice and he'll use every trick up his sleeve to get her. After ten months of sneakily trying to woo her, he's saved from kidnaping her in order to properly court her —as per bear tradition— after he stops an attempt on her life and her best choice is to lay low in the heart of his bear clan.

It is a love story told by the seemingly emotionless woman in charge of EmNet, the worldwide emergency response network comprised by all races at a time when a divided world is trying to unite. But not all are convinced that unity is a step towards betterment, some will fight to keep the world divided and while stability is achieved Silver Mercant needs to focus on her job, not the unruliness Valentin brings.
"Today an apple, tomorrow ice cream, the next day licking honey from her body, it was all about strategy… and stubborn bearish hope."
Nalini Singh once again proves her prowess at writing addicting stories. Her Psy-Changeling series have the right balance between new and familiar, between heartwarming and heartrending. This compelling story shows us just how love can conquer all.

Valentin is charismatic, smart, absolutely swoon worthy. He wears his heart on his sleeve, loving wholeheartedly and fiercely protecting his clan. He charmed the ice around Silver's Silence and I fell for him right along with her. How could I not fall when he was all male alpha sexy being cute and funny, sneaky as a cat or sweet as a teddy bear! The man signed his secret-not secret admirer gifts he left for Silver with Mr. I. M. A. Medvezhonok. Translation Mr. I. M. A. teddy-bear.
"He needed a mate who'd refuse to take any of his shit. She'd also drive him insane, of that he was certain, but bears were lunatics anyway. It'd be fun. All he had to do was convince Silver of that."
I could probably make a very long list of all the amazing things about Valentin, but I think you get the picture. For a man so wonderful, it's only fitting that he get to have an equally great partner. Silver is pretty awesome in her own right. Even though she has a different way of showing it, her viewpoint regarding family aligns with Valentin's and when need be, she's just as ruthless as the alpha bear himself.

While there have been other Psy romances in the series, it still feels highly unlikely given their lack of emotional skills. Nalini makes it work though. The love between Valentin and Silver feels organic in its development however difficult and almost impossible it may seem given Silver's special circumstances; its the depth and strength are directly correlated complications they face. That is to say, their love is huge and absolutely heartwarming and fun!
"You have anything but suits in your closet?"
"No, I sleep this way and wake up perfectly pressed."
Also touching are all the bear clan events which I loved and moved the story forward. I mean, come on, BEARS! They're boisterous, cuddly, and fun. Along with the main story, Nalini lays out an overall arc for this spinoff series. I expect several Psy-human pairings but eagerly await anything Ms. Singh throws our way.

Silver Silence is book #16 in the Psy-Changeling series, book #1 in the Psy-Changeling Trinity series by Nalini Singh. It is a standalone paranormal romance, told from various points of view with a happy ending.
About Nalini Singh
NEW YORK TIMES AND USA Today bestselling author of the Psy-Changeling and Guild Hunter series Nalini Singh usually writes about hot shapeshifters and dangerous angels. This time around, she decided to write about hot and wickedly tempting rock stars – and one sinfully sexy rugby god turned brilliant CEO. If you're seeing a theme here, you're not wrong.
Nalini lives and works in beautiful New Zealand, and is passionate about writing. If you'd like to explore her other books, you can find lots of excerpts on her website. Slave to Sensation is the first book in the Psy-Changeling series, while Angels' Blood is the first book in the Guild Hunter series. Also, don't forget to swing by the site to check out the special behind-the-scenes page for the Rock Kiss series, complete with photos of many of the locations used in the books.