review
MOST OF ALL YOU
by Mia Sheridan
SUMMARY
A broken woman . . .
Crystal learned long ago that love brings only pain. Feeling nothing at all is far better than being hurt again. She guards her wounded heart behind a hard exterior and carries within her a deep mistrust of men, who, in her experience, have only ever used and taken.
A man in need of help . . .
Then Gabriel Dalton walks into her life. Despite the terrible darkness of his past, there's an undeniable goodness in him. And even though she knows the cost, Crystal finds herself drawn to Gabriel. His quiet strength is wearing down her defenses and his gentle patience is causing her to question everything she thought she knew.
Only love can mend a shattered heart . . .
Crystal and Gabriel never imagined that the world, which had stolen everything from them, would bring them a deep love like this. Except fate will only take them so far, and now the choice is theirs: Harden their hearts once again or find the courage to shed their painful pasts.
REVIEW
Two broken souls, one emotional story that'll be impossible to let go of long after you've put it down. Mia Sheridan delivers a poignant story that will break your heart and put it back together with a deep and beautiful love that celebrates the triumph of the human spirit.

Gabriel Dalton had to cope with a horribly undesirable past, but he pulled through with his own unbreakable strength and will. Though there's still a part of him that needs healing.
From an early age Crystal learned about loss, feeling the emotional pain down to her marrow and enduring the consequences of it by being neglected, deprived of the love and safety all children should enjoy.
Given her unfortunate circumstances and in order to evade ever feeling heartbreak again she built a fortress to protect her and learned to detach body and mind during the unpleasant moments she still has to endure. Until Gabriel Dalton with his tender gaze, gentle patience and sculptor's hands chipped away her defenses and taught her that there are good men worth taking a risk.

It wasn't an easy acceptance, she's broken and afraid. She pushes him away again and again because every man she's come across has only used and abused her. But Gabriel, sensing a dark past not unlike his own, doesn't give up.
Together they find a love that's capable of mending their brokenness. But it's up to them, especially Crystal, to find herself and the ability to trust him.
Right off the bat, I was hooked and saddened by Crystal's story. Her start in life was so desolate and only got worse with time. Her hardness and wariness was warranted. She needed those walls to survive. Gabriel saw that, but also saw her softness and the potential for so much.

Gabriel was such an incredible hero, having gone through his own hell also at a young age, but having a better family life, he came out broken yet with his soul intact. I fell in love with him right from the start with his shy smile and strong will. And the more I read, the more I fell, because he was just such good and gentle man, full of love, gratefulness and strength which was also so very sexy.
Most All of You is an emotionally naked story about fortitude, hope and healing brought by a virtuoso at lacing heartbreak, passion and love. A must read for all romance lovers. This one goes straight to my favorites list.
Most All of You is a standalone contemporary romance by author Mia Sherida. It is told from both points of view with a sweet, sweet happy ending.
BUY THE BOOK HERE
Amazon | Barnes & Noble | Kobo | iBooks | Google Play | Books-a-Million IndieBound
ABOUT THE AUTHOR
Mia Sheridan is a New York Times, USA Today, and Wall Street Journal Bestselling author. Her passion is weaving true love stories about people destined to be together. Mia lives in Cincinnati, Ohio with her husband. They have four children here on earth and one in heaven.
SOCIAL MEDIA LINKS
Website | Facebook | Twitter | Goodreads | BookBub | Amazon
Add Most of All You to your shelf on Goodreads: http://bit.ly/2uvpZY4
Giveaway
Win 1 of 10 paperbacks.
https://app.viralsweep.com/view_widget/9eb61c-25793
Follow Forever Online
WebSite | FaceBook | Twitter | Instagram | Pinterest | Goodreads
#ReadForever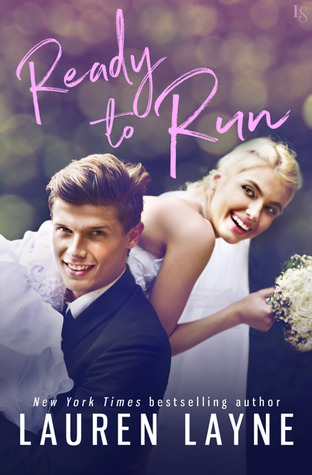 Ready to Run by Lauren Layne
My rating: 4 of 5 stars
A great blend of fun and sexiness to kick off a series you won't want to miss.
Lauren Layne has a wonderful way of writing a story with good balance between delightful fun and hotness that grabs me from start to finish. I haven't missed a single one of her books and I don't plan on doing so because I know I'll be getting an enjoyable escape every single time. With this first book in her I Do, I Don't series, Ms. Layne sets the stage for an amusing and addictive series about runaway bachelors.

In Ready to Run we meet big city, reality TV producer Jordan Carpenter who is trying to recruit the small town, elusive firefighter Luke Elliot who's left three brides at the altar. After being ignored via emails and phone calls, Jordan decides to head to the small and picturesque town of Lucky Hollow to talk to him personally, but no matter how much she tries to convince him to participate in the show he just won't budge.

Much to Luke's dismay and Jordan's surprise, she's having a good 'ol time reacquainting herself with the small town life thanks to the warm welcome she's getting from everyone else, from invitations to participate in the kissing booth at the county fair to his exes including her in their book club. Before long Luke and Jordan are incapable of ignoring their growing attraction, but as candidate he's off-limits to her and her presence is dredging up old wounds.
There's a lot more to Luke's runaway groom story than he lets on and Jordan senses this because there's no way a man who dedicates his life to saving people and even cats and is so liked by everyone would callously leave his brides, or would he? Can he let down his guard long enough to confess the reason behind his shielded heart and admit his growing feelings towards the sexy city slicker before it's too late?

I really enjoyed Luke and Jordan's story, especially the charming backdrop with all of the town's endearing characters where everyone knows everyone else, and of course Jordan's BFF, the colorful Simon. I can't wait to read the rest of the series!
Ready to Run is the kickoff book in the Ready to Run series by Lauren Layne. It is a standalone, contemporary romance. Told from both points of view, with a happy ending.
Amazon -> http://amzn.to/2sYBQ0m
Jorinda Pearce thought she did everything right – graduated from college, married her long-time sweetheart, established a career. But what does she have to show for it now? A degree she doesn't use, a job she hates, and an ex-husband that broke her heart.
Looking for a long overdue adventure, Jorie takes a walk on the wild side and attends a masquerade event at The Wicked Horse Vegas. It's exactly the escape she's looking for, and even better, she can explore anonymously. Drawn to the man masked in black leather with the body of a god, Jorie finds the greatest pleasures of her life at the hands of a stranger.
Walsh Brooks is the most sought after man in The Wicked Horse. Sex is nothing but a game to him and he's the type that will always leave at the end of the night without looking back. Unfortunately for Walsh, there's no way he can walk away from the mysterious green-eyed beauty behind the mask of sapphire feathers, because he knows exactly who she is.
Jorie is his best friend's little sister and there's not another woman in the world that's more off limits.
EXCERPT
Squaring my shoulders, I march into The Royale and head straight for the concierge desk. I haven't been in this casino before. Hell, I haven't been in hardly any of them. Sure, I'd only grown up about forty-five minutes away, but gambling and all-you-can-eat buffets held no interest to me.
From Micah bragging about his best friend over the years, I knew Walsh orchestrated the purchase of the land, then pulled together financing with two other partners to build this casino. It's one of the most popular on the strip, boasting five-star dining, old-world elegance, and superior customer service. Again, all this from Micah, but honestly… I'm so proud of Walsh, too. We may have lost touch over the years, but I'll never forget all the ways in which he acted as a big brother to me.
Ick.
Okay… that's gross. Thinking of Walsh like a brother.
I scrub my mind clean of that thought and demand myself never to do that again.
Rather, I'll never forget all the ways in which Walsh provided me friendship and support in my formative years.
Yes… much better.
"Can I help you?" a man behind the concierge desk asks with a genuine and friendly smile. Not snooty as I would expect in a fancy hotel, and I guess that goes to the superior customer service The Royale strives for.
"Yes… hi," I say as I nervously tuck my hair behind my ears on both sides. "I need to see Mr. Brooks. How do I go about getting access to his apartment?"
Micah told me some time ago that Walsh lives here.
The concierge never loses his friendly smile, but a single eyebrow arches high at my temerity.
"Oh, gosh," I stammer. "That came out stalkerish. Mr. Brooks… I mean, Walsh… and I are longtime friends. He used to babysit me."
"Your name?" the man asks as he pulls up something on his computer.
"Jorie Pearce."
After a moment of scanning, he looks up at me. "Your name isn't on the approved list."
"Well, he's not exactly expecting me."
"I'm sorry, Miss Pearce," he says with true regret in his voice. "But our policy is strict. No one gets up to the private penthouse without their name on the list."
I lean on the desk with one elbow and lower my voice. "Just out of curiosity… are there any women on that list?"
The eyebrow shoots up again.
"No, wait," I say hastily as I hold my palms toward him in a silent plea to not process my last request either mentally or on the computer. "That's totally stalkerish, and I didn't mean that."
"Miss Pearce," the concierge says, now with a hint of annoyance. "Perhaps you'd like to leave a message? I can get it up to Mr. Brooks today and he can call you."
"No, I need to see him now," I tell him firmly. "And I swear it's not to cook a rabbit in a pot on his stove. Can you please just call up to his apartment?"
"That's not our policy—"
"Look," I snap as I lean across the desk slightly. "I'm a lifelong friend of Walsh's. My brother is his best friend. We lost touch for a few years, but we ran into each other last night. I really need to talk to him about something that happened last night, and I'm not leaving this hotel until you call up to his apartment."
The eyebrow doesn't arch but it does draw inward to meet its match on the other side as he considers what I just said.
"I swear to you," and here I pause to look at his name tag, "Bentley. Please just call him. He won't be mad."
With a sigh, he relents and picks up the phone receiver, punching in a five-digit number. After a pause, he says, "Mr. Brooks… I'm very sorry to disturb you, sir, but there's a Miss Jorie Pearce here to see you. She says she's a longtime friend."
I watch as Bentley listens, but I can't gauge what's being said as his face remains blank. Finally, he says, "Very good, sir."
I take this to mean I'll be getting an escort to the penthouse suite, but Bentley replaces the receiver and says, "I'm sorry, Miss Pearce. But Mr. Walsh told me to tell you he's busy and can't receive you right now."
My eyes narrow at Bentley. "I don't believe you. Call back and let me talk to him."
"I assure you, I just talked to him and that's what he said."
"Call him back," I order as I point to the phone.
"I can't," he says almost with a wail. "If I do, he'll fire me."
Okay, that hits home. I don't want to get anyone in trouble, so I say, "Fine. Give me just a moment."
I take a few steps away from the concierge desk and pull my iPhone out. I shoot off a quick text to Micah. What's Walsh's phone number?
I wait a few moments, but I know Micah is awake in San Francisco at this hour. His phone is always on, and he never ignores a text from me.
He responds with the number before I can even start to tap my foot with impatience, adding on, Why?
I hate the lie, but I write back, Came to Vegas for the day. Thought I'd see if he could meet up for lunch. Haven't seen him in years.
Cool, he writes back. Tell him I said, "what's up, douche?"
I roll my eyes as I text back, Real mature. Love ya. Later.
After I save the number to my contacts, I open a new text to Walsh. Let me up to see you or I'm going straight back to The Wicked Horse to satisfy some further curiosities I have.
I hit send and then walk back to the concierge desk. I merely lean one elbow on it and watch Bentley with a silent smile. The phone rings about ten seconds after that.
Bentley's eyes fly to mine as he listens, and then says, "Yes, sir. Right away."
When he replaces the receiver, he says, "I'm to show you to the penthouse elevator."
"Thank you, Bentley," I say brightly.
Wicked Wish
by
Sawyer Bennett
My rating:
4.5 of 5 stars
Sawyer Bennett knows how to write scorching hot romances with a searing hot hold that you won't want to let go.

If you're looking for a forbidden romance of the "I've loved my best friend's younger sister forever" kind with incendiary moments and all the elements that make a novel absolutely unputdownable, look no further than Wicked Wish. Sawyer Bennett's second book in the Wicked Horse Vegas erotic spinoff is just as addictive and unique as the books in the original Wicked Horse series, and even those abundant sizzling hot scenes of pleasurable wickedness never distract us from the forbidden romance plotline that moves the story forward.

With a broken heart and seriously damaged self-esteem after her husband kicks her out because she's not good enough, Jorie Pearce goes to Las Vegas to regroup with her best friend who suggests the best way to prove to herself that she's better than good is to explore her sexuality freely and anonymously at the Wicked Horse's masquerade party where she is quickly pulled like a magnet to the most attractive man she's ever seen, and who gives her greatest pleasure she's ever known. But what happens when the mask comes off and she realizes that the man that rocked her world is her brother's best friend?

Walsh Brooks is perfectly content with his uncomplicated life, he has everything he could ever want: an incredibly successful business and an all access membership to the Wicked Horse sex club with no strings attached debauchery. His life quickly changes from easy to extremely complicated the night he experiences the best sex of his life with a gorgeous green-eyed woman he thought was a stranger, until the moment he sees two tiny scars and realizes she's the girl he fantasied about but knew he could never have.

Without a doubt, the chemistry between Walsh and Jorie was phenomenal, but the best part of these books isn't the all the wicked sexiness, it's the love story between two appealing characters which is full of emotion because their shared history.
Even though she was a bit broken and insecure, Jorie is brave and strong and quickly realizes that Walsh is just the guy who'll help her get over her fears and won't let him push her away because of a silly snag, A.K.A. her brother. It was absolutely amusing to see how she wrapped the "never going to settle down because domesticity isn't for me" man around her finger. And in Walsh's case, it's true what they say about the bigger manwhore falling the hardest.

I'm a total fan of Sawyer Bennett, whatever she writes I'll read, whether it's be tear jerking romances or wickedly sinful stories like this one because they all have a very important ingredient that makes me fall every time: heart.
Wicked Wish is the second book in the Wicked Horse Vegas series by Sawyer Bennett. It is a standalone, full-length, erotic romance with sweltering hot scenes that accompany a lovely and emotional romance. Told from both points of view, with a happy ending.
4.5 stars
Amazon -> http://amzn.to/2vztQ6k
* I was given an ARC of this book courtesy of the author via InkSlinger. The excerpts taken are from that copy. *
Since the release of her debut contemporary romance novel, Off Sides, in January 2013, Sawyer Bennett has released more than 30 books and has been featured on both the USA Today and New York Times bestseller lists on multiple occasions.
A reformed trial lawyer from North Carolina, Sawyer uses real life experience to create relatable, sexy stories that appeal to a wide array of readers. From new adult to erotic contemporary romance, Sawyer writes something for just about everyone.
Sawyer likes her Bloody Marys strong, her martinis dirty, and her heroes a combination of the two. When not bringing fictional romance to life, Sawyer is a chauffeur, stylist, chef, maid, and personal assistant to a very active toddler, as well as full-time servant to two adorably naughty dogs. She believes in the good of others, and that a bad day can be cured with a great work-out, cake, or a combination of the two.
WEBSITE | FACEBOOK | TWITTER | BOOKBUB | AMAZON AUTHOR PAGE | INSTAGRAM

Eye Candy by Jessica Lemmon
My rating: 4 of 5 stars
If you're looking for light, fun, sweet and sexy, Eye Candy is a great pick for your summer reading.
Admiring beauty is part of human nature, right? Or at least that's how Jacqueline Butler is justifying her mid-morning ogling of the dazzling man who jogs by her office every day at precisely 11:45am. And that's all she intended to do until her best friend and coworker pushed her to ask the unidentified man to go out with her. The problem is that she hasn't dated since her divorce and she's out of practice. So while she dates the running man she's practicing and falling for her best friend.
"Our friendship is important. All I can hope is that I haven't ruined what we have for a stab at what we could be."

Vince Carson couldn't have survived his divorce if it weren't for his two best friends. His guy friend who he liked to go out for drinks with and his other friend who happened to be a girl and spent every Friday night watching old movies with him. She happily shares the vice president title with him, but she's also happily slotted him in the dreaded friend zone. Which wasn't terrible at first, but now he desperately wants out and if everything goes according to his plans he'll soon be swooping. But you know what they say about the well laid out plans of mice and men…

Two friends surrender to their desire and fall in love in this fun and steamy friends-to-lovers office romance. I've read several books by Jessica Lemmon and with Eye Candy she delivers another entertaining book and a wonderful start to her new series Real Love. Every page is made to draw the reader deeper into Jackie and Vince's friendship, how good they are for each other, how they helped each other get through difficult moments in their lives and how for both of them, that friendship evolved into more. But for both of them the fear of being hurt again and loosing that bond had them going through an unconventional courtship.

I loved the lightheartedness of the story. It was funny and sexy and easy to read. Both characters are very likeable. Jackie is smart and confident and yet a bit shy when it comes to the opposite sex, hence the practice dates with Vince who is easy going and playful. It's truly fun watching them stumble their way through their road from friends to lovers. I can't wait to read the next book in the series!
Eye Candy is book #1 in the Real Love series by Jessica Lemmon. It is a standalone contemporary romance. Told from both points of view and has a happy ending.
Amazon -> http://amzn.to/2tzQcVg
Author's pinterest board -> https://www.pinterest.com/lemmony/eye-candy/
4.5 stars
More reviews * Stalk us on FaceBook * As well as Twitter * Pinterest Board for Book Teasers