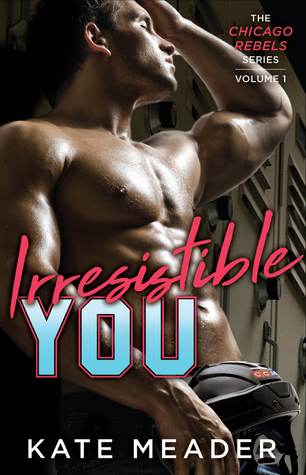 Irresistible You by Kate Meader
My rating: 5 of 5 stars
I'll always have a great time reading Kate Meader. Irresistible You was no exception. It was super fun, deliciously swoony and sexy, a little bit angsty and a lot heartfelt.
After a lifetime of trying to prove herself to her father and miserably failing in his eyes, it seems as though even in death her father is trying to frustrate her. Harper Chase has now co-inherited his nose-diving hockey team together with her two alienated half-sisters. But nothing will stop her for achieving her lifelong dream of heading a successful NHL franchise, not the fact that she's a woman in a man's world, not the fact that she barely knows her sisters who aren't one hundred percent on board and certainly not her recently acquired, too gorgeous for his own good and way off-limits player who doesn't want to be on her team.

Thought of as the unluckiest player in the NHL, Remy DuPre, still had a chance to finish his pro-hockey career proudly lifting the Stanley Cup until he was traded to the losing Chicago Rebels. He'll use every weapon in his arsenal, including charm and manipulation, to get what he wants. But trying to break through the walls of his stubborn boss in sexy heels is turning out to be more stimulating and fun than he originally anticipated. Can they find a way for both of them to win?
"You feel that, Harper?… I think we're havin' a thing."
They were. Oh, God they were. "Why are you still here again?"
His mouth curved. "Lady, I got the distinct feelin' these next few months are gonna be fun."

The atmosphere intensifies as soon as these two lock eyes with one another and all the fun begins. The push and pull between Remy and Harper is delightfully addicting as both have dominant personalities, both are set in what they want and both will do just about anything to achieve their goals. I rooted for them wholeheartedly. Inevitably, their seemingly different career paths push them apart, but it's really Harper who needs to work through her issues to see what Remy already knew, that their heart and souls are a perfect match and they can work through everything else together.
"I speak and you think of sexy?"
"You exist and I think of sex."

There are many other things about this Irresistible book to enjoy like Remy's loveable family and his adorable penchant for doing read-a-longs with his nieces no matter the book—Pride and Prejudice—, the building relationship between Harper's sisters who all unequivocally have daddy issues—I expect this relationship to continue developing throughout the series—, the return of Addison and Ford from In Skates Trouble, and the incredible Gretzky… the farting dog.
"… you need to be spoiled every now and then to remind you that you deserve the best."
"… You're the one to spoil me?"
"I'm the man for the job."
Every job, he wanted to say. He'd feed her mind, her body, and show her the meaning of worship.
But what pulls you in and keeps you turning page after page is the reluctant yet undeniable attraction between Remy and Harper. Remy's magnetism and blatant virility alone is enough to leap from every page, but when all that yummy sexy, swoony, alpha maleness is single-mindedly directed towards Harper, I just about melted along with my eReader.
"He was in. Inside her head, inside her body, and inching closer to that heart she kept wrapped in barbed wire and pinned with a No Trespassing sign. He intended to trespass. He would invade those border and plant his f*cking flag."

Irresistible You kick off book in the Chicago Rebels series by Kate Meader. It is a standalone, hockey full of deliciously swoony, sexy, and sweet moments. Told from both points of view, with a happy ending.
Amazon -> http://amzn.to/2wpZ1OZ
* I was given an ARC of this book courtesy of the author via NetGalley. The excerpts taken are from that copy. *