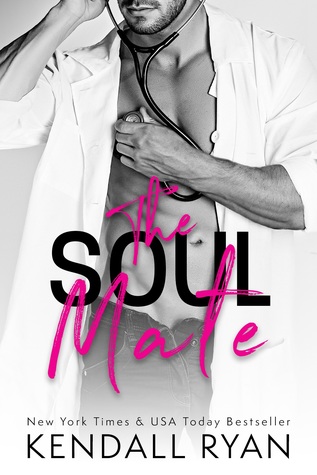 The Soul Mate by Kendall Ryan
My rating: 4 of 5 stars
Absolutely sweet, sexy and delightful.

Once again Kendall Ryan delivers a witty romantic comedy with a story about two people whose one night of sexy abandon entangles their lives forever. The Soul Mate is a fun, fast-paced read that includes a hot OB-GYN you'll adore and amusing banter between the protagonists that makes the story easy to read in a single sitting backing up the book's inviting blurb and delicious cover.
When we first meet Bren, she's escaping Mason's home after an incredible night because even though she had a fantastic time, she avoids relationships at all costs to protect herself from heartbreak and disappointment. She never expected to see the man who gave her toe curling pleasure again, much less while he was examining her lady bits during an emergency doctor's visit to determine whether she was pregnant or not.
Mason is an unfailingly casual about relationships, but not because he's a commitment-phobe, quite the contrary. He believes that when he finds "the one" it'll be a fairytale, forever kind of love. After his night with Bren he's convinced she's it, but finding her after she ghosts is turning out to be a Cinderella type hunt without the shoe until she magically appears in his exam room. Now all he has to do is convince her she should give them a real chance, especially with the bundle of joy tying them together.

Charmer that he is, Mason is able to find his way through Bren's walls and persuade her to see him, and the more time they get to know each other, the more their bond strengthens and the initial desire threatens to spark something more than their original one night stand.

The entire Roommates series is a collection of lighthearted and fast-paced stories with witty dialogue that holds the reader engaged and smiling. The Soul Mate is one of my favorites in the series with its charming characters and although somewhat predictable, a delightfully fun and entertaining plot.
The Soul Mate is book #4 in the Roommates series by Kendall Ryan. It is a standalone, short and easy to read, romantic comedy full of heartwarming moments. Told from both points of view, with a happy ending.
Amazon -> http://amzn.to/2vAZWP7
* I was given an ARC of this book courtesy of the author via InkSlinger. The excerpts taken are from that copy. *