MY KIND OF WONDERFUL
by Jill Shalvis
Release Date: December 22, 2015
Grand Central Publishing Mass Market
Cedar Ridge #2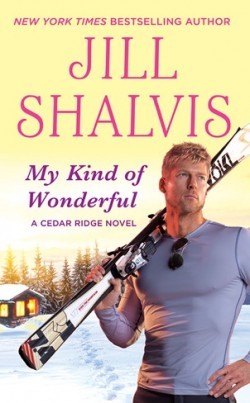 UNEXPECTED AND UNDENIABLE . . .
Bailey Moore has an agenda: skiing in the Rockies, exploring castles in Europe, ballroom dancing in Argentina. Now that she has a second lease on life, she's determined not to miss a thing. What she doesn't realize is that item #1 comes with a six-foot-one ski god hot enough to melt a polar ice cap. She doesn't want to miss out on him either, but Hudson Kincaid isn't the type of guy to love and let go. And as gorgeous as Cedar Ridge is, she's not planning to stick around.
As head of ski patrol at his family's resort, Hud thinks he's seen it all. But never has he run into someone like Bailey. She might look delicate, but her attitude is all firecracker. And her infectious joy touches something deep within him that he's been missing far too long. Now he'll just have to convince Bailey to take a chance on her biggest adventure yet . . . something rare and all kinds of wonderful.
Buy the book!
Review

My Kind of Wonderful by Jill Shalvis
Dali's review & rating: 4 of 5 stars

My Kind of Wonderful is amusing, sexy and tender all rolled up in an attractive snow powdered package.

"He flashed that panty-melting grin and all her poor, neglected womanly parts flamed to life and did the Macarena."
Bailey Moore has never "had time for anything except survival." But now she has a new lease on life and with it a list of all the things she imagined she'd enjoy doing during the decade she battled cancer, starting with painting a mural. When the opportunity to do it lands on her lap though, she didn't expect it would include an impossible to resist, cantankerous, sexy ski master. She's seen how loyal, genuine and protective he is with his mother. Which makes him an adventure she wants, but only if it comes with an expiration date.

Hudson Kincaid's plate is almost overflowing with responsibilities. He's head of the ski patrol at his family's ski resort, on the police force, taking care of his mentally unstable mother and worrying day in and out about his estranged twin's wellbeing. He doesn't have time for a relationship nor does he want one, but one look at Bailey and a few moments around her happy and magnetic personality is enough for him to want to stay in her orbit. Can he let himself be happy? And can he convince Bailey that their Kind of Wonderful is forever?

Jill Shalvis is a joy to read, you can't go wrong with her when looking for a touching contemporary romance with strong characters that make you want to root for.
"You make me feel things."
"Like irritated? Annoyed?"
"Yes… But Also warm. And… Fuzzy."
"Warm and fuzzy..? I'm not a pair of slippers Bailey."
I loved the witty back and forth between Hudson and Bailey that stoked their instant chemistry. I appreciated Bailey's strength which never faltered and gave her an inner beauty that was hard to resist. Especially for a man like Hudson who is strong and loyal to the core. And completely swoon worthy when he turned his sexy loving towards Bailey.
"It's my turn for a question now."
"Aren't you afraid that might express persona interest?"
His smile was a little naughty. "I've had my tongue down your throat. I'm pretty sure I've already expressed personal interest."

Even though they had decided that whatever was going on between them was temporary and would remain light, the loving intervention from Hud's incorrigible siblings and his mother pushed them in the right direction, helping Hud forgive himself and both to live life fully.
"We're all gunning for you to trip over your two left feet for a woman. It's your turn."
The family meddling is another layer I fully enjoy when reading Jill Shalvis' books. Those pranks the brothers pull while knowing they've got their backs is completely endearing. My Kind of Wonderful also had Hud's mom very close to the center of the story. She adds both heartwarming, humorous moments, as well as heartbreaking ones depending on her mental stability or lack of it.

I loved the pace at which Baily and Hudson grow closer. There isn't any over the top drama, just the right amount of angst for me to be glued to the story while rooting for them to be able to find their happy ever after adventure. Oh and let's not forget the hilarious pranks the Kincaids pull on each other that's worth barrels of laughs! Two words for you this time: choking hazard.

Book Facts: My kind of Wonderful is book #2 in the Cedar Ridge series by Jill Shalvis. It's written from both points of view. Can be read as a standalone with a happy ending.
Start from the beginning with book one in the Cedar Ridge series, SECOND CHANCE SUMMER! 
RESCUE ME
Cedar Ridge, Colorado, is famous for crisp mountain air, clear blue skies, and pine-scented breezes. And it's the last place Lily Danville wants to be. But she needs a job, and there's an opening at the hottest resort in her hometown. What has her concerned is the other hot property in Cedar Ridge: Aidan Kincaid—firefighter, rescue worker, and heartbreaker. She never could resist that devastating smile . . .
The Kincaid brothers are as rough and rugged as the Rocky Mountains they call home. Aidan has always done things his own way, by his own rules. And never has he regretted anything more than letting Lily walk out of his life ten years ago. If anyone has ever been in need of rescuing, she has. What she needs more than anything are long hikes, slow dances, and sizzling kisses. But that can only happen if he can get her to give Cedar Ridge-and this bad boy-a second chance . . .
About the author:
New York Times 
bestselling author Jill Shalvis lives in a small town in the Sierras full of quirky characters. Any resemblance to the quirky characters in her books is mostly coincidental. Look for Jill's bestselling, award-winning books wherever romances are sold and visit her website for a complete book list and daily blog detailing her city-girl-living-in-the-mountains adventures.
Connect with the author!
If you'd like to include a giveaway on your site, please use this 
Rafflecopter
 link.